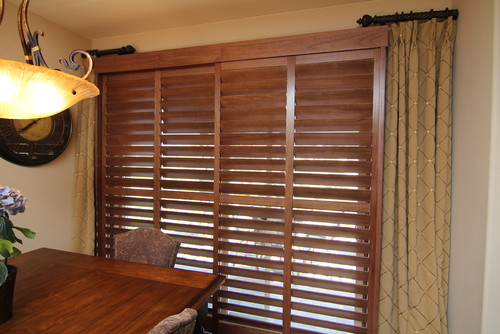 Interior style can be tricky. Color, texture, lighting, and regional culture all collectively influence the total style of your home while your personal touches–knicknacks, accent rugs, wall art, and window coverings–serve to express your individuality. At Colorado Shade and Shutter, we take pride in keeping current with the cutting-edge, in-home interior while also offering shade and shutter options that can strike a chord with any homeowner's personality. Our expertly-crafted plantation-style shutters have revived enthusiasm for old charm and are available in a variety of colors and styles. Read on for more ideas on how to include plantation shutters into the theme of your home's decor. 
Window accents immediately draw the eye to points of light entry within the room, making the room appear larger. When you install plantation shutters to serve as your interior window accents, not only are you achieving this effect, but you are also able to control the amount of light which enters the room by changing the angle of your shutters. You've effectively applied a "dimmer switch" to your windows, which can help to keep rooms cool, or to cast an intimate shadow during the twilight hours. 
Plantation shutters are highly durable and resistant to the wear and tear which other forms of shades and blinds simply cannot stand up against. Most commonly, plantation style shutters are composed of a network of hardwood slats, with vertical support coming from the push rod (to open and close the shutters), as well as wooden stiles. Custom designed from a wide selection of wood types, grain patterns and stains, your plantation shutters can be made to match the color pallete of any room. Accompanying hardware (for installation) and trimming may be selected to ensure that the total appearance of your plantation shutters is cohesive, neat, and tidy. 
The functionality of plantation shutters–even when compared to their stunning aesthetics–is what truly makes them a worthwhile investment. Once installed, your plantation shutters immediately begin providing coverage from sunlight, as well as an extra layer of insulation to prevent the escape of warm air from your home during the winter months. Aside from climate control, these classy fixtures are also safe for homes with young children, as the shutters operate without the need for cords and may be opened and closed by the dominant slat which remains out of reach of small children. 
Plantation-style shutters have the ability to make new homes look classic and warm, while making older homes look chic and polished. Homeowners who are looking to spice up their homes' interiors, or add value and style to each room should certainly not overlook the power of window fixtures and accents when assessing what types of decor are worth the investment. These simple yet timeless shutters provide the optimal return on investment when compared to alternative styles or cheaper options. 
For more information about our window accents, or to browse our collection of custom-designed plantation shutters, visit our website. Keep up with our regularly-updated posts by checking out our blog.